Top Spots for Fall Photography in Toronto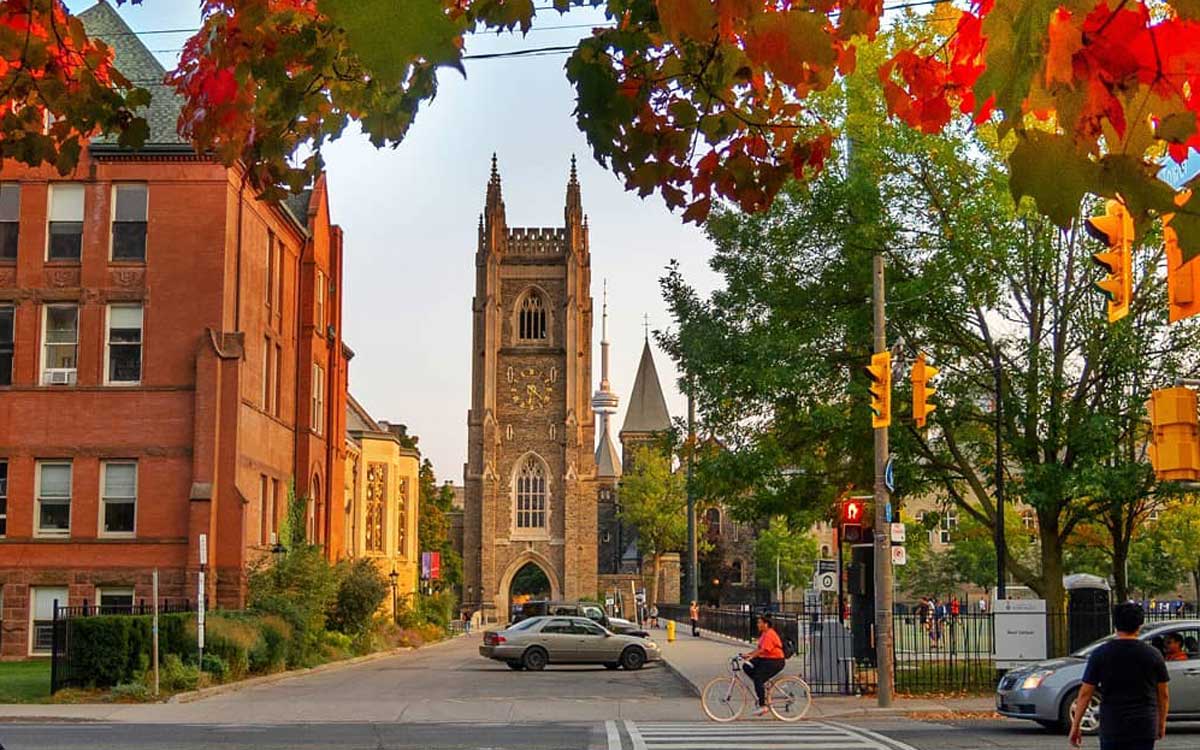 Our Guide to Where and When to Catch Fall Photography and a Walking Tour in Toronto, Canada
Welcome to our annual feature on Fall Photo Spots and Walking Tours in the city. You may be wondering, "Where can you shoot good fall photos?" If you are in the Toronto area, we have some recommendations for amazing fall photography spots within the downtown. We host meetups and tours. Contact us for a private tour or join one of our events.
Keeping in mind you can peep Instagram locations for recent photos or check out websites that document the changing of the leaves as we approach "peak fall," the change in colours in the city is different from the rest of Ontario. When Algonquin, two hours to the north, is in full peak colour, it is almost guaranteed that TO is two weeks behind.
We often expect "peak fall" to occur between October 20 and October 30. But maple trees start to turn a brilliant red and orange by early October, and some trees, like oaks, are still turning colour slowly in mid November. With that said, here's our list!
5 Best Spots for Fall Photography in Toronto:
High Park
University of Toronto
The Beaches
Rouge Park
Humber Bay Park
Have you been to these spots? Read on for our synopsis and tips on when and where to best enjoy your visit.
In no particular order, we present the five best places to take fall photos in our fair city.
Whether in the east or west lakeshore areas, the enormous Rouge Valley or the middle of the city at University of Toronto, we think these spots tick every box: beautiful landscapes, plenty of trees and reasonable access to city transit (Rouge is a challenge but is served by TTC bus routes).
High Park – West End Tree Paradise
High Park is located in the west end of downtown Toronto. I might be a little biased because I live in the neighbourhood, but this is absolutely one of the top spots in the city for nature walks, hiking and fall photography. We recommend exploring the less crowded east side of the park, including the trails along Spring Rd and through the allotment gardens and dog hill. You can walk from Bloor St. all the way to the lake!
Timing Tip: You should try to go on a weekday as a weekend may be very crowded just like in Spring when the cherry blossoms are blooming fall weekends especially Saturdays or Sunday afternoons can be thick with people so I recommend actually going on a Monday or Tuesday this year. Early in the week is always best.
As we discussed earlier, we expect that peak fall foliage will be sometime between October 20th and October 30th. Conveniently, we are hosting a fall photo walk and drone demonstration at High Park on October 30th. Come out and join myself and guest Kanchan Kumar as we explore the hiking trails, the beautiful fall leaves and we do a little demo with Kanchan's drone. Please consider registering for the event or contact us for a private tour.
One last tip is that Grenadier pond is well worth the walk. Try cutting across the middle of the park, through the baseball fields, and you'll save time getting to the pond and the Hillside Gardens, which are very picturesque and photo worthy (especially for portraits).
University of Toronto – Gem in the Centre of the City
The University of Toronto is located downtown. Otherwise known as St George campus, the school is Canada's biggest university and close to subway stations like Museum, St George, Bay Street and Queens Park. The campus is a sprawling gem in the middle of the city that has gorgeous open areas with trees and lawns, and quite a few historic buildings so you can combine a wonderful fall walk with an architecture and history tour. Speaking of which we should tell you that there is a tour that we offer and a photo walk.
Every season we go to the University of Toronto (also known as "U of T") and depending on the meetup we will be either informally gathering as a group of photographers or Tdot Shots founder and guide, Mike Simpson, will lead a tour that details the history and the important architectural landmarks of the campus.
Location Tip: Many people focus on the historic University College and King's College circle area but be sure to check out the amazing trees and pathways of Philosopher's Walk and the east side of the campus at Victoria College and St. Michael's College. If you start on the east side you can also walk across the north end of the amazing Queen's Park, which is very special in fall.
The Beaches – East End Sand and Sun
Located on the east side of Toronto adjacent to Queen Street and Ashbridges Bay, the famous beach neighbourhood offers many opportunities for walking and enjoying a great day outdoors. Of course at Toronto's beaches, generally speaking at this time of year, there may not be that much action on the beaches themselves, but if we have a nice Indian summer Day there might be people playing some volleyball and they will certainly be some sun worshipers enjoying the sands off Lake Ontario.
Many people will appreciate the rather generously sized parks that align such places as Kew beach and Ashbridges Bay and you can go all the way to the RC Harris Water Treatment Plant where there are different boardwalks and trails that will afford a beautiful view across Lake Ontario.
Route and Time Tip: Some of the best views of the city skyline are at Ash Bridges Bay so we suggest you time your walk to arrive at the lookout for the city skyline about 30 minutes before sunset. Start one hour earlier at the east end and walk west to take advantage of the fading sunset light.
Rouge Park – Giant River Valley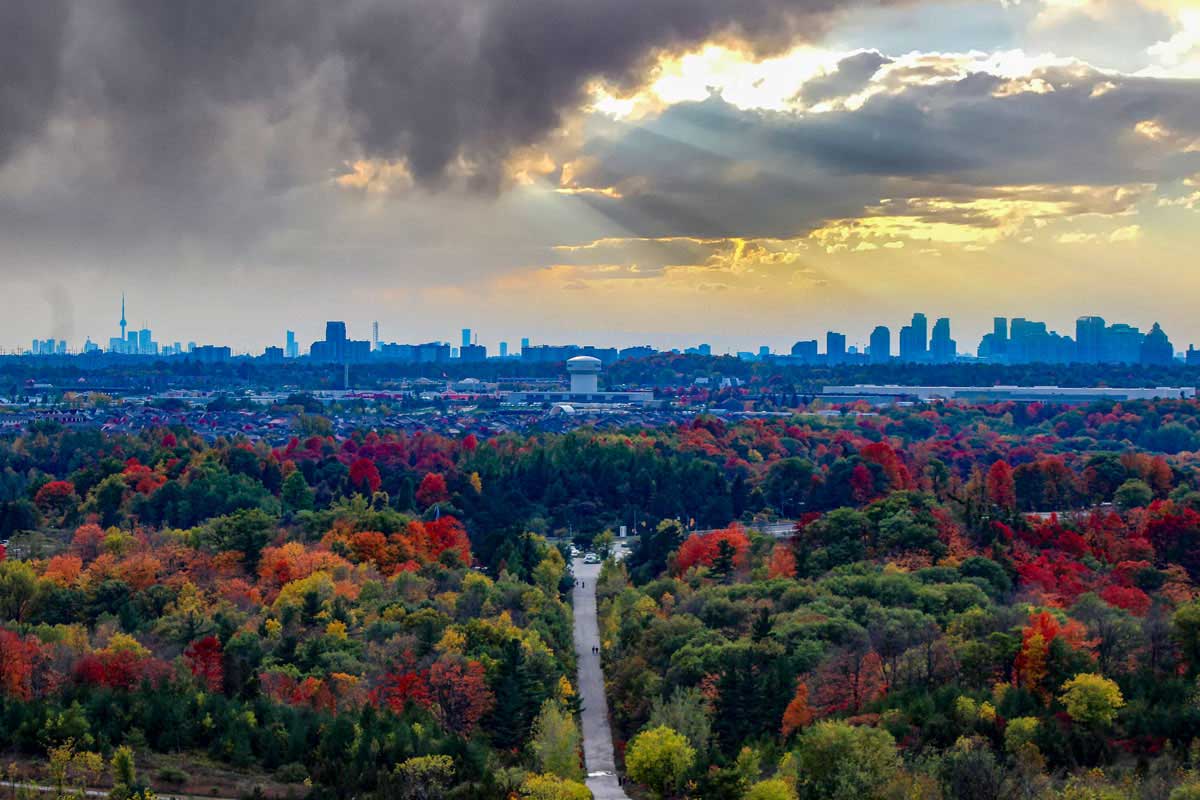 Going way out to the east end extremes of the city there is a very special place called Rouge Park. The full name is the Rouge National Urban Park which is a federal park and the largest urban park in North America. It is definitely one of the most spectacular natural areas in all of Toronto including the GTA aka Greater Toronto Area.
This is a gigantic park and there are so many trails that you can explore. You can enjoy walking and hiking in any season (be warned there are some steeps and difficult climbs in this area). You can also try canoeing and kayaking. The park has the Rouge River and Little Rouge River whose valleys extend all the way down to Lake Ontario, where there is a small beach at the aptly named Rouge beach. Without a doubt the Rouge park represents the absolute best of fall experiences in the city. As a bonus the Toronto Zoo is very close by, which is a wonderful place for families. You would need a car if you intended to visit the park and the zoo on the same day.
Transit Tip: Many people will drive to the Rouge Park though it is also accessible by TTC – it is located at the East End of Sheppard Ave. just on the border of Scarborough and Pickering. Go to Kennedy station and take a bus connection from there. Alternatively, consider using Enterprise car share, an inexpensive alternative to transit, if you don't own a vehicle.
Humber Bay Park – Nature close to Downtown
Like High Park, Humber Bay Park is located in the west end of the city. You could take a bike or walk from places on the western waterfront such as Ontario Place. From there you can continue west to spots like Sunnyside Beach and the Humber Bay Arch Bridge which are very beautiful and iconic spots on the waterfront.
Continuing a little bit west of the famous Arch Bridge you will find Humber Bay Park East and Humber Bay Park West. These are joined but they are distinct peninsulas which offer multiple pathways that walkers, hikers, cyclists and photographers can enjoy. You may even see fishermen depart on their boats if you visit during early morning.
You will be able to walk in relatively wild yet urban areas. Many parts of these peninsulas have spectacular views of the Toronto skyline which is very appealing to photographers. If you happen to be brave and you want especially good photography you might try to go out to these places in the early morning for a sunrise photo shoot.
Wrapping up
Hope this is useful to you. Of course I couldn't mention all the top spots. But these are the key spots for me. There are dozens of amazing places to shoot fall photography in Toronto.
Speaking of which, you may also consider city spots like: Allan Gardens, Riverdale Park, Mt Pleasant Cemetery and Evergreen Brickworks (we have a meetup event there this October!).
Wishing you a great fall season. Happy shooting and exploring!
Mike Simpson
---
More Great Fall Pics from Around Toronto