Celebrating Toronto Culture and Communities via Local Street Photography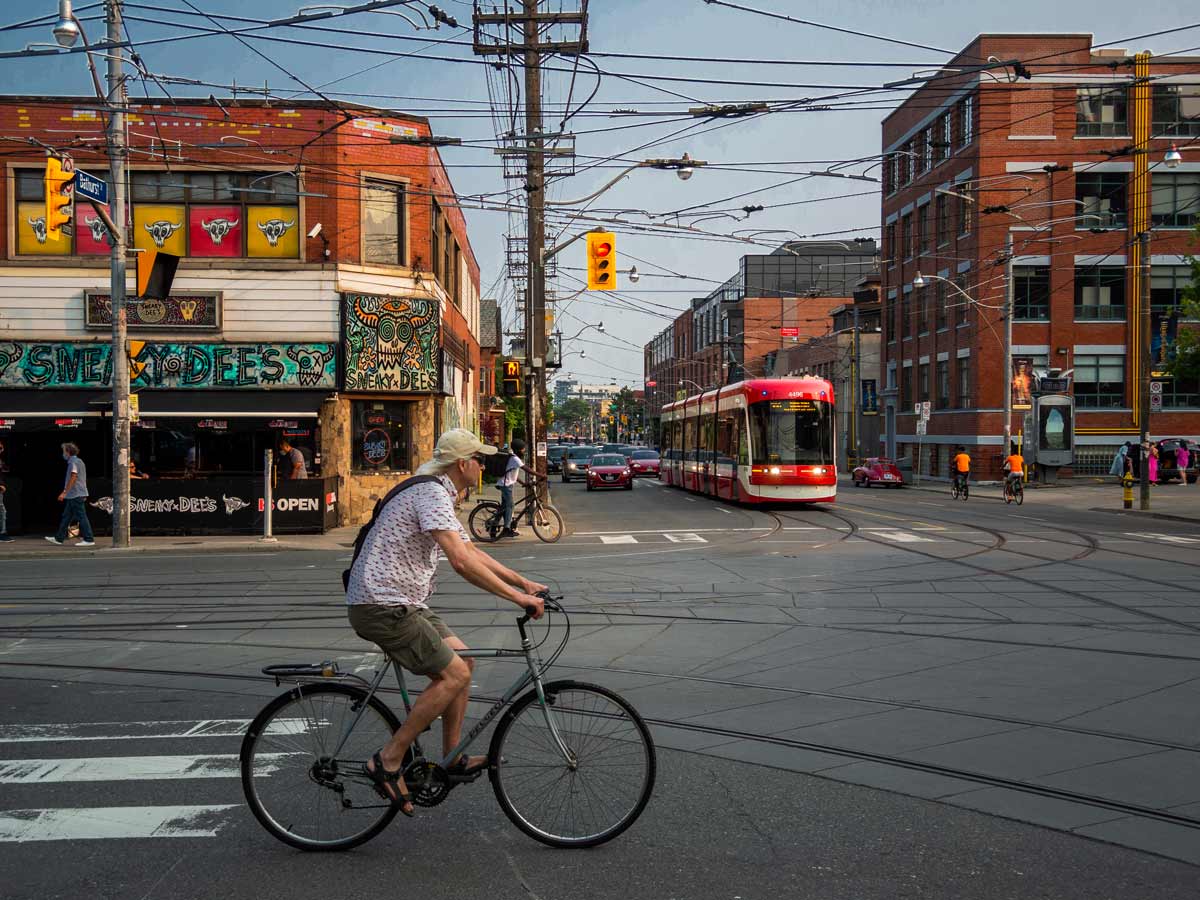 When we conceived of the Iconic Toronto project and tying it together with this year's Tdot Shots photo contest, we had visions of all the great images we'd see with favourite landmarks from around the city.
We looked forward to seeing shots of the downtown, including Union Station or the Gooderham Building, along with the perennial CN Tower in frame. But we also know there are many historical and culturally significant locations and landmarks that are beautiful but under-appreciated. So we want to see a broader range of images!
We would guess that you would like to see some diversity too!?
Shoot Street and Document Your City
In the same spirit of wanting to see architectural landmarks that are not a daily fixture, we encourage street photography which can be done anywhere at any time. A street photo captures people and place, illuminates details about how Torontonians interact, and the neighbourhoods and communities they interact in.
It is not an exaggeration to say that people tagging Tdot Shots rely on sunsets and the CN Tower a great amount of time, for the subjects of their photography. Some of the shots are incredible but it becomes a routine, even a tired cliché.
We encourage you to break out of artistic theme boxes and capture some truly unique views. Shoot street and you'll always get a fresh frame!
Shoot Local Neighbourhoods and Support Your BIAs
You want some original compsitions? Shoot your neighbourhoods. Last year we encouraged this by having a categry called "Community" and encouraging portrait photography, among other genres.
This year we simply suggest you consider street photography as a means to spice up your portfolio and liven up this social realm we spend so much time in. Let's spice up our Insagram feeds this fall!
As part of our outreach, we created a BIA page, and connected with the 80+ BIAs (Business Improvement Associations) in the city to ask that they support our contest. We promised to co-promote their neighbourhoods in the process of doing Iconic Toronto.
Thanks to the following BIAs for supporting via posts on Instagram:
Broadview Danforth Danforth and West Queen West BIA
Here are a few of their posts supporting the #iconictoronto photo contest.
We are grateful to all the BIAs who have replied to our emails and sent us messages on Instagram. We promise to support you back! We are passionate and loyal. Tag us and share our posts and WE WILL DO THE SAME.
Submit your street, culture and community photos
The "Street & Culture" category is a really fun and meaningful part of the contest. Documenting the people and places that make up our city is an integral part of making art.
Remember, photos qualify if you use #iconictoronto on Instagram and post between Sept. 15 and Oct. 31.
If you are a BIA we encourage you to remix this project by creating a unique hashtag for your hood – a variation of #iconicneighbourhood whereby you replace the word "neighbourhood" with your name.
Ready to Impress Us with Your Street Photography?
We hope we've inspired you a little. Remember there's prizes to be had! Winners receive $100 printing certificates. Runners-up receive professional services.
The biggest reward though is the satisfaction in broadening your portfolio and your perspective. Go out and shoot some unique subjects in tour communities!
Best of luck to all who enter and get out there and photograph your communities! 🏆