Iconic Toronto Streetcars Move the City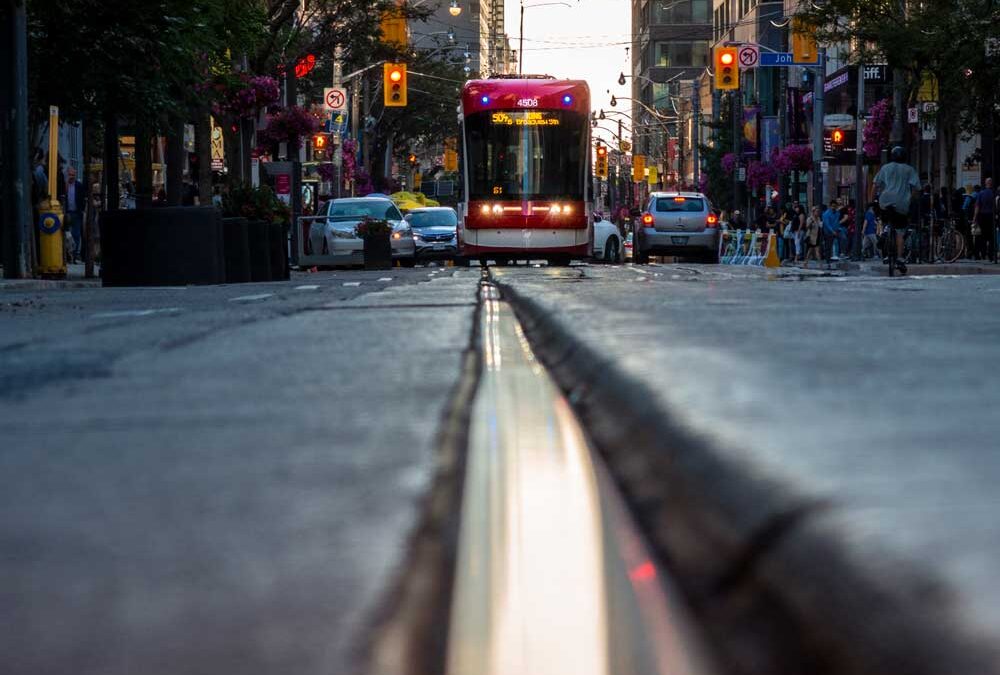 It's hard not to notice the red streetcars zipping around the city, particularly in the downtown. When you talk to a visitor they often remark on two things: one, this city is clean, and two, those streetcars are fun and handy! And we totally agree. Toronto is a clean, friendly city blessed with reliable and interesting transit.
Do you love streetcars? We do. Welcome to the introduction to streetcars on Iconic Toronto.
Streetcars Move The City All Year Round
Whatever season or weather, Toronto's streetcars move you, rain or shine, sleet or snow, sunrise or sunset. Even through COVID we have relied on Toronto transit aka the TTC, and our streetcars have been a dependable part of the street life in this city.
Local photographers capture amazing scenes
Many of us are photographers and many of us are transit enthusiasts. A walk along Spadina between Bloor and King is a treat any day of the week. Take a look at these images by Toronto photographers Paul Flynn and Amar Singh, the images capture the vibe of Toronto transit and street photography
Toronto streetcar scene in winter by Amar Singh
Fall streetcar on Spadina Ave by Paul Flynn
Transit Fans Actively Posting in TO
We have seen a lot of people tagging us on their transit images, whether bus, streetcar or subway. While we're partial to streetcars, we appreciate the enthusiasm of all the transit enthusiasts.
Transit fan Trevor posts amazing images contrasting TTC vehicles of yesteryear with vehicles of today. Take a look at this incredible image.
In this case, Trevor has juxtaposed the Dundas "Red Rocket" streetcar traveling westbound on Dundas St. West from Yonge Street in 1976 and 2021. The Eaton Centre is under construction in the earlier image. The old PCC streetcar was in service until 1995. Today the streetcar fleet consists of the new Flexity Outlook vehicles
Credits: 1976 photo was taken by Richard Glaze / 2021 photo by Trevor the Time-Traveler.
Art Project: A Streetcar Named Toronto
The beloved CLRV streetcar was retired in 2019. During the final year of service the TTC commissioned a team of artists, led by Jacquie Comrie, to paint up one of the old streetcars in a funky livery. This streetcar was in regular service and was a favourite for transit spotters across the city.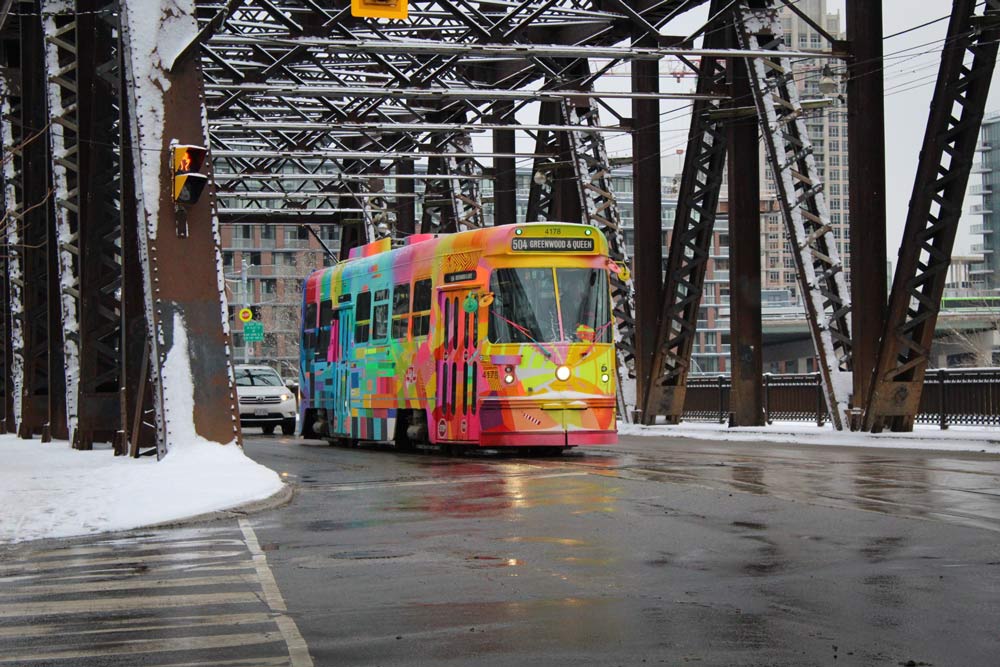 As we detailed in the article on our website: "Artist Jacquie Comrie painted the exterior, while Ryan Van Der Hout, Nicole Beno, Chris Perez and Suanne McGregor retrofitted the interior. In late September, the vehicle was unveiled to the public and media at Roncesvalles Carhouse. The car ran on the 506 Carlton and 511 Bathurst on the weekdays and the 501 Queen on weekends, and ran all night on October 5th for Nuit Blanche."
The art car was one of the last six CLRV streetcars to operate on the final day, December 29, 2019. It will be missed. Be sure to read the amazing history of the CLRV article co-written by @transit_insider and @br0adview.
Visit Our Streetcar Feature to Learn More!
We have created a dedicated section of the site in tribute to the iconic Toronto streetcar. The featured section will be published soon. If you would like to contribute please get in touch.
Streetcar and Transit Photo Walks
We are organizing some transit photography meetups – please stay tuned! Hope you will join us at our meetups in 2022-2023.